In this article, I will show you how to find all websites hosted on your shared server. So lets get started.
If you have ever hosted a website utilizing any of the shared hosting services, then most likely, at some point, you have wondered how many and which other websites are hosted and sharing the same server your website is hosted to.
There are many tools on the internet that allow you to find all websites hosted on your shared server.
All of them should show you similar results, but I will show you two tools I use.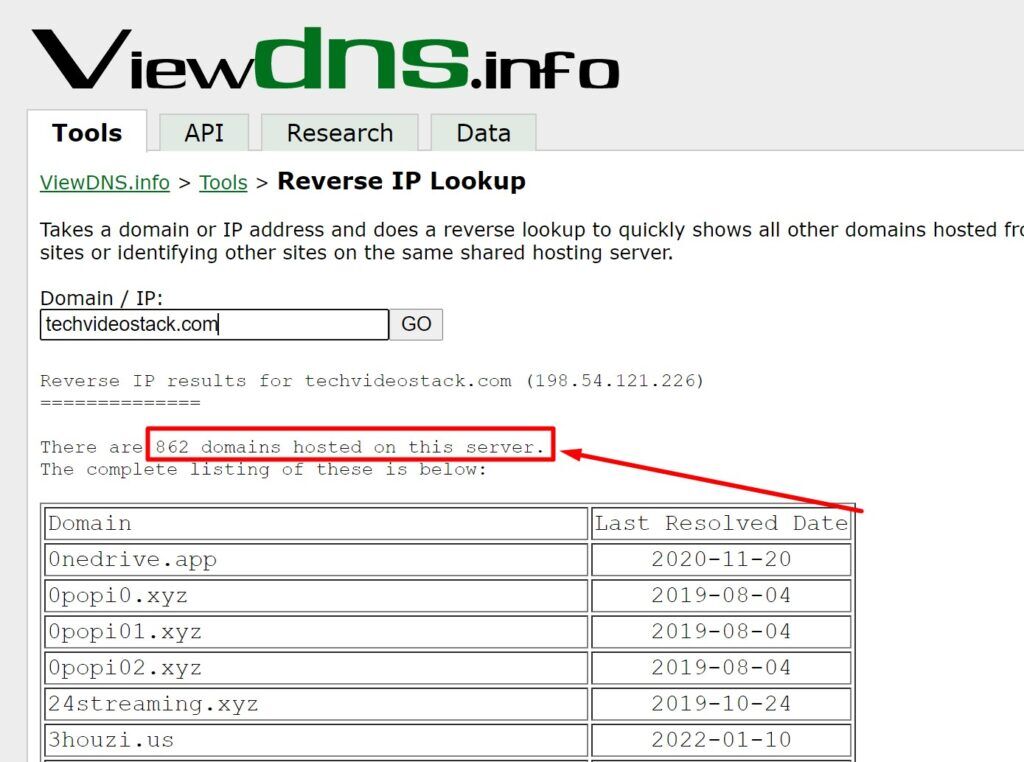 This website provides an easy to use and clear interface.
All you have to do is write the domain or IP in the "Domain/IP" field and hit the "GO" button.
In the table below you will find all websites hosted on your shared server.
From the above image you can see that I did a reverse lookup for my website techvideostack.com and the result showed me that there are 862 other domains or websites hosted on the server I use.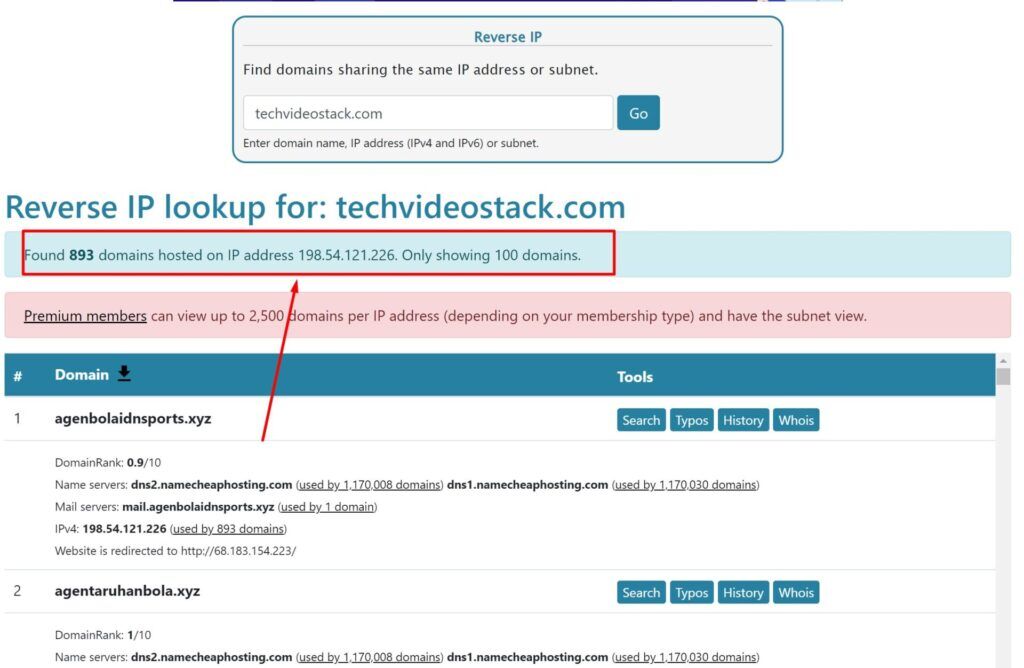 This is another tool or website that will run a free reverse IP lookup to find all the websites hosted on your shared server.
Even though it shows the number of all domains it found, it will actually only show 100 actual domain in the list. To view the full list of the domains or websites hosted on your shared server server you will need premium access.
In the picture above you can see that according to this tool, my website shares the server with 893 other websites.
Now, why they provide different number of total websites?
Well, each website has its own algorithm and way on how to find the total number of websites hosted your shared server.
No tool will provide you with the exact number, but they help you get a picture of how crowded your shared server is!
How does reverse IP lookup work?
One definition is as follows:
Reverse IP lookup, also known as reverse DNS lookup, is the process of querying the Domain Name System (DNS) to determine the domain name associated with an Internet Protocol (IP) address.
So, basically the reverse IP lookup helps us find the domain or the owner related to a certain IP address.
Having your website hosted in a shared server has its benefits as well as its drawbacks.
The main benefit is that these kind of services are very cheap and easy to use. There are many hosting services out there that will allow you to host your websites, for a relatively small monthly/yearly fee.
A shared hosting service provides you with all the infrastructure required to run your website smoothly, but sharing means that you share the resources with many other websites out there.
So, each websites needs to abide to the "fair play" rules, meaning that it should not not use more resources other than those provided by the hosting provider.
In case any of these websites, at any point, will use more resources, all of that will be reflected to all other websites hosted in that shared server. This my momentarily or longer affect all other websites hosted in the same server.
In addition to that, the more websites hosted on a shared server, the more security risks present.
In my case, my website shares the server with hundreds of other websites.
So, yes, things can go bad. But, for simple websites, like blogs or personal websites, it shouldn't be a problem.
Actually, the hosting providers nowadays have evolved significantly and they provide very good hosting services. Usually, they have set up many rules and other steps to make sure that the service is smooth.
They will quickly penalize any website breaking the rules, in which way they make it possible a quick recovery of the service, in case any performance or security risk is presented.
It all depends on the hosting provide and the servers they are using.
Nowadays, hosting providers use very powerful servers which will easily handle a large number of websites using the same server resources.
Usually, you should be notified by the hosting provider if any resource availability issues should arise. In those cases you should consider upgrading or migrating your website.
If you find that the number of websites hosted on your shared server is very big and you are concerned about your website not working properly at some point in the future, then there are some alternatives out there, like: VPS hosting, dedicated hosting and/or cloud hosting.
Usually, with these service you get more dedicated resources, but on the other side you will pay more for these services.
Conclusion
Hopefully, this article helped you out to find all websites hosted on your shared server and make a decision on whether you will continue using shared hosting or switch to other alternatives.
Thanks for reading this article!