Hello there. In this tutorial you will learn the whole process on how to create a cool subscribe button design and animation in DaVinci Resolve.
In this, half an hour video tutorial, you will learn all the steps required to build the animation as can be seen in the video above.
We start by designing the subscribe button first. In DaVinci Resolve, we do it by using the background and the rectangle node. Then, we attach the subscribe text node.
After that, we will need to design and animate the grey button part, which represents the button when it is clicked and that has the subscribed text added to it. In this phase we also add the bell icon.
Finally, we need to animate the cursor, which is a hand cursor .png. The animation starts from the bottom of the screen, then the cursor hovers above the red subscribe button, clicks it, the grey part of the subscribe button is revealed, then the cursor moves to the right to click the bell and simulate the "Notify All" option of Youtube's subscribe notification button.
As always, to make the animation smoother and more realistic, we use the DaVinci Resolve's Spline editor, to smooth the animation curves.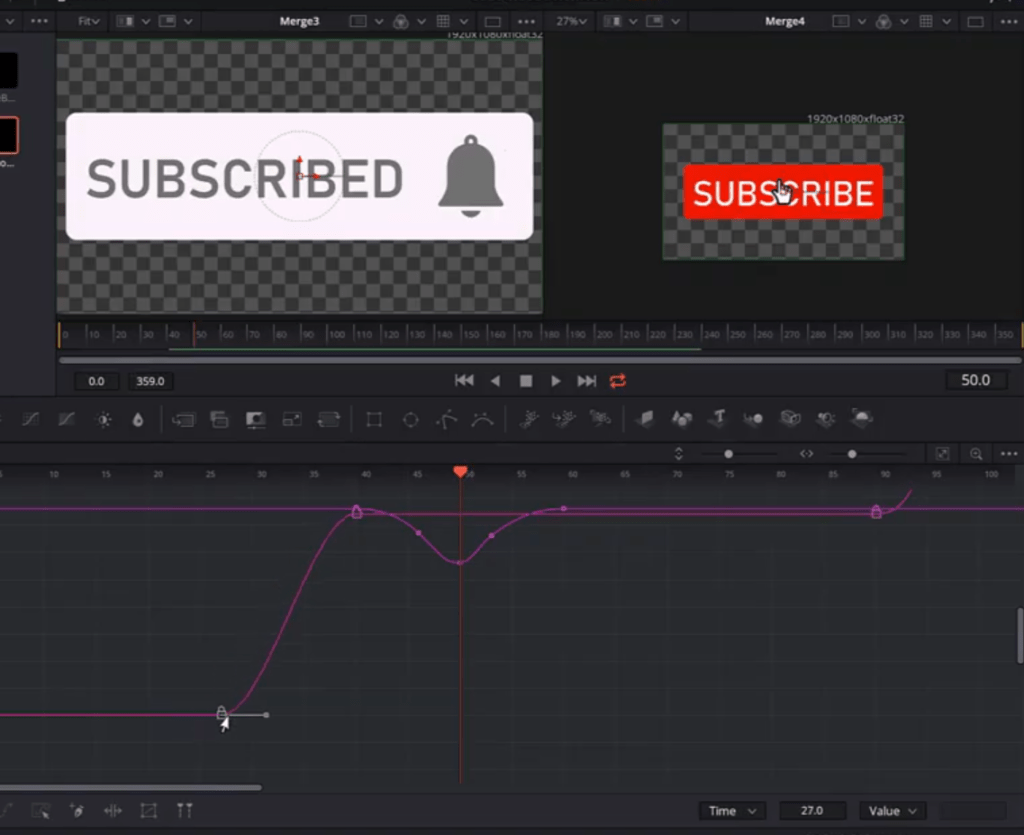 img 1: davinci-resolve-spline-editor
To be able to reuse this animation, we export it as a .png sequence using the Saver node in DaVinci Resolve.
You can re-import the sequence in DaVinci Resolve or any other video editing software that supports .png sequence import and animation. After re-importing the whole folder, containing the sequence, you can add in any of your future videos.
Additionally, you can add sound effect to this subscribe button animation.
Download the .png sequence in the link below:
BONUS 4K download – You can download another subscribe animation for free. I have added a green screen background, so that you can use it anywhere on your video projects for FREE. I use this animation in my own video. Hope you'll like it :).
… or alternatively, you can take it from this link: https://pixabay.com/videos/subscribe-subscribe-button-34047/
If you have any questions, leave them in the comments section below.
Thank you for reading this article. Take care …
Ref: In the video tutorial we use the video downloaded from the following link: https://pixabay.com/videos/ocean-horizon-yellow-clouds-waves-21175/